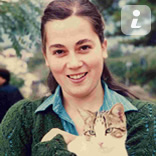 Francesca Curcio was born in Florence and took her doctor's degree in History of Art in the University of Florence. From 1998 she has been a licensed guide in Florence and Siena; from 2008 also in Arezzo. She has successfully attended a sommelier course at the F.I.S.A.R. She works with two Schools in Florence, Centro Studi Turistici and APAB, teaching in courses for the professional formation or the updating of licensed guides, with the aim of perfecting their knowledge of the territory.
Contact me for any further information

TOURS IN TOSCANA
Florence, Siena, Arezzo and their provinces are three of the most visited in Tuscany for their Renaissance masterpieces, landscapes, villas, food and wine. The frescoes by Piero della Francesca in Arezzo, the Uffizi and the Academy with Michelangelo's David in Florence, the Cathedral of Siena.... Artists like Michelangelo, Jacopo della Quercia, Lorenzo Ghiberti, Masaccio, Luca della Robbia or Stefano di Giovanni were born here and left proof of their genius.
But why did the Renaissance start here? Who commissioned the Doors of Paradise, the frescoes in the Lady chapel of Santa Croce in Florence, what is the real meaning of the monuments? In my tours I like to answer these questions and many others; I think all questions are stimulating. In every town it is possible to arrange custom-made tours: normally the Cathedral, the political centre and some special monuments like the Old Bridge in Florence, the Piazza Grande in Arezzo (a set scene of the movie "Life is beautiful"), the Piazza del Campo in Siena.
I like to propose specially tailored tours to my clients to discover fascinating places brimming with Art, History and good food, off the beaten track. It is possible in fact to arrange tours dedicated to a specific subject, like gardens, food and wine tasting, the Francigena Road, Etruscan Civilization, the Origins of the Renaissance, the Splendour of the Baroque and many others on clients' request.